Schwinn is the quintessential American bicycle brand. But in 2011, no one seemed to think they were relevant. We set out to bring their luster back with our platform: Life's a ride. Enjoy it on a Schwinn.
We kicked off the year with letter-pressed bike maps sent to key retailers and influencers in six cities. For a brand that relies on sell-in to retailers, it was critical to get noticed. (The series was later featured in the Graphis Design Annual.)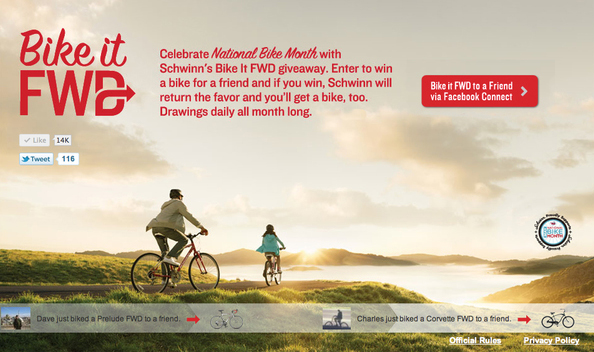 Next up:
Bike It Forward, a 30-day social media promotion. True to the brand's down-to-earth goodness, Bike It FWD allowed users to enter a Facebook friend into a giveaway for a Schwinn bike. (That's right, they couldn't nominate themselves.) This simple initiative grew Schwinn's Facebook presence by 3,000%. And primed the pump for the rest of the campaign.
TV launched mid-summer, with brand and product spots. In this one (produced with the Instagram-filter look and music of the time) we wanted to remind viewers that the 116-year-old brand had kept up with them.
And we ended the year with a holiday campaign, assembling the world's first bicycle bell choir.
Called the Schwinn Bell Choir, they used only their bike bells to play 3 holiday carols: Jingle Bells, Deck the Halls and Auld Lang Syne. Each of the songs (with no artificial sound design whatsoever) could be sent to friends. And the best part – the more carols sent, the more bikes Schwinn would donate to children in need.
Here's some of the attention we received right away, which helped build excitement:
The Schwinn Bell Choir has been recognized by the AIGA awards (where it collected two Judge's Choice Awards), the FWA and also nominated for a 2011 Webby Award.

To learn how we built the bells, check out the video below.
Overall, the campaign led to double-digit sales growth and protected the brand in a time when they were transitioning from independent bike dealers to mass retailers, like Walmart and Target.